Cockroach by computer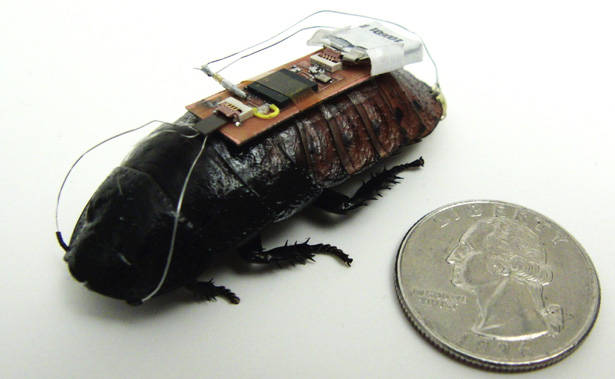 Boffins computerize giant cyborg cockroaches • The Register.
A team of scientist from my alma mater, North Carolina State University, outfitted Madagascar hissing cockroaches with microchip backpacks that included wireless connections. Using a computer, they can completely control the insects' movements.
"Ultimately, we think this will allow us to create a mobile web of smart sensors that uses cockroaches to collect and transmit information, such as finding survivors in a building that's been destroyed by an earthquake," said team leader Alper Bozkurt.
I like the "searching for survivors" idea, of course, but what if someone decides to slap a camera on the cockroach? Suddenly you have an insect spy capable of infiltrating almost any location. And the things are damn near indestructible. They can survive nuclear fallout, for Pete's sake!
Outfit each nasty "secret agent" with a microphone, a camera capable of night vision, a wireless transmitter and all the necessary (and tiny) bells and whistles. One or more cockroaches could be deployed and then guided to nearly any location. They can move through the smallest spaces, hide inside walls and collect all sorts of useful data. And the information they provide, from photos and videos to audio recordings, would then beam back to some receiver connected to a hard drive somewhere.
Used in this way, computerized cockroaches could be helpful for national security reasons, I suppose. Investigating alleged terrorists would simply mean releasing a bug or two in the suspect's apartment, snooping around and transmitting everything back to a nearby controller. No one would ever have to know, and that's the problem.
Now imagine this technology falls into the hands of some tech-savvy pervert. Drop a few cockroaches into the women's locker room at a local gym and someone could collect all kinds of marketable footage. More deprived sickos could use these insects to spy on their targets or future victims. Pedophiles could spy on children, rapists could spy on women and criminals could further invade our lives.
And no one would ever be the wiser. A cockroach sneaks in, takes some pictures, records some dialogue and then vanishes through a hole in the floor. The perfect spy.
I'm pretty sure this is only the beginning. Give it a few years and I'm sure we'll have robotic bugs like the ones featured in Steven Spielberg's "Minority Report." Drones were only the beginning.
Posted on September 10, 2012, in Perspectives and tagged Cockroach, current-events, Insect, Madagascar, musings, news, North Carolina State University, perspectives, secret, spy, Steven Spielberg, Wireless. Bookmark the permalink. 7 Comments.